Mind Hacks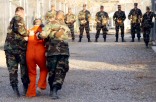 The US Government has just released its report on the CIA's Detention and Interrogation Program, aptly branded the "torture report", which is available online as a pdf.
It makes for appalling reading but sheds light on the role of two psychologists in the creation and running of what turned out to be genuinely counter-productive 'enhanced interrogations' that were used in preference to already productive non-abusive interrogations.
In the report the psychologists are given the codenames Grayson SWIGERT and Hammond DUNBAR but these refer to James Mitchell and Bruce Jessen who have been widely identified byothersources in the preceding years.
Mitchell and Jessen were both contractors, who, according to the new report, arrived at detention centres to direct CIA interrogations, despite having no interrogation experience, and in face of sometimes severe reservations of regular CIA staff.
Later, Mitchell and Jessen formed a company, Mitchell Jessen and Associates –…
View original post 512 more words